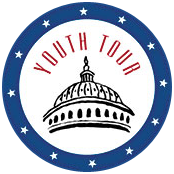 The 2023 Youth Tour will be held in June 11 - 19, 2023!  Our students who will be representing BCEC are Margarita McCrary of Muleshoe and Kinley Coker of Sudan.  Congratulations to Margarita and Kinley! 
Watch for more news about the 2024 Youth Tour in the Fall of 2023!  
What is the Government-in-Action Youth Tour?
Every June, as many as 1,500 high school students from across the country spend a week in the nation's capital as part of the National Rural Electric Cooperative Youth Tour(link is external). The students are sponsored by electric cooperatives – cooperatives that are committed to educating America's rural youth about America and the role electric cooperatives play in developing strong rural communities.  Participating in the Youth Tour is an awesome way to learn about this great nation, develop leadership skills, gain a better understanding of electric cooperatives, and make friendships that will last beyond the week!
Applications for the 2024 Youth Tour will be available in the Fall of 2023 at either of the BCEC offices, at area high school counselor's offices or online.  Eligible Youth Tour applicants must have completed their sophomore year in high school or be classified as a current junior or senior.  Students must have a valid Texas Drivers License or Texas ID and be a United States Citizen.  Students cannot be older than 19 years of age by May 31, 2024.  Follow us on Facebook for updates on the 2023 Youth Tour and on the 2024 Youth Tour Application process.